What great fun we had today at breakfast! Hardin Minor, our special guest and entertainer extraordinaire, on his way home to Charlotte from a performance in NYC, gave young Ella, an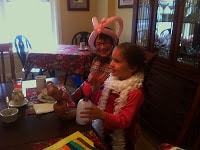 enchanted and special performance with his humor and balloon creations…from teddy bears to magic hats and swords!
What a great B&B morning!