As part of the
B&Bs for Vets
program in North America, we celebrated a wonderful evening with our four veteran couples, 3 Army and 1 Air Force with a total of 61 years of military service!  They were all given flowers by
Pealers
, our downtown florist and a box of velvety mints by Peter Matangos of Matangos Candies in Harrisburg.  Also, four of our local restaurants treated each couple to a special dinner:
Market Cross Pub
, Andalusia,
Cafe Bruges
and
Trattoria Piatto
.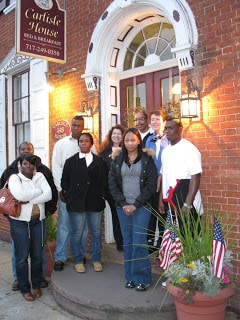 Our local paper,
The Sentinel
, featured the
B&Bs for for Vets
program and our special guests on the
front of today's paper
.
    We thank them all and every veteran who have all given so much so that we and others can live free!