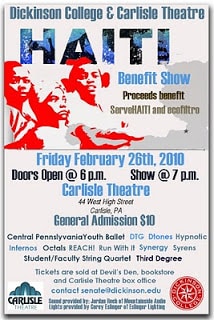 Dickinson College students will hold a Haiti earthquake relief benefit concert at the Carlisle Theatre Friday, Feb. 26, at 7 p.m. Two nonprofit organizations with Dickinson alumni connections, ServeHaiti and EcoFiltro, have been selected to receive the funds to provide direct support to earthquake survivors.
Scheduled performers include Synergy, Hypnotic, Third Degree Step Team, Dance Theatre Group, Octals, Syrens, Infernos, D-Tones, the Dickinson College string quartet, REACH! and the Central Pennsylvania Youth Ballet. The concert is a collaborative effort between the college and the Carlisle Theatre.
$10 TICKETS go on sale Monday, Feb. 8, at the Carlisle Theatre on High Street and at the Devils Den and college bookstore at the lower level of the Holland Union Building (HUB) during their regular business hours. Tickets also will be sold Feb. 8-12, from 11 a.m. to 1 p.m., in the lower level of the HUB.
Support a most beneficial cause and spend the night at the Carlisle House Bed & Breakfast – we will match your ticket price of $10 with a donation to the Red Cross Haiti Fund.