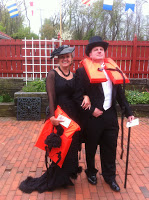 The Astors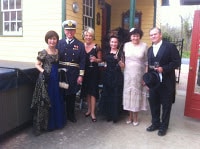 Last night we had the great pleasure of helping out at a dinner party where we, along with some of our best friends, recreated the last First-Class dinner served on the Titanic! Friends of ours, Skip and Anne Ebert had donated the evening as an auction item for the benefit of the YWCA.
First to arrive were "the Astors of Manhattan", John Jacob Astor IV and his wife.
The menu was amazing!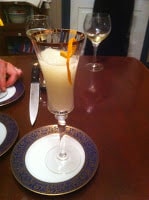 Punch Romaine
First Course
Oysters
Mignonette
Shrimp
Butter on Toasts
Second Course
Consommé Olga
Third Course
Poached Salmon with Mousseline Sauce, Cucumbers
Roasted Squab on Watercress
Fourth Course

Filet Mignons Lili
Potatoes Lyonnaise
Vegetable Farci

Fifth Course

Roast Duckling, Apple Sauce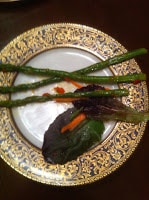 Asparagus Vinaigrette
Sixth Course
Sirloin
of Beef, Chateau Potatoes
Green Pea Mousse
Seventh Course
Punch Romaine
Eighth Course

Roast Squab & Cress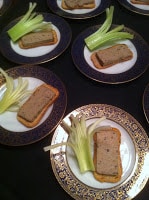 Pate de Fois Gras
Ninth Course
Cold Asparagus Vinaigrette

Tenth Course
Pate de Foie Gras
Celery Fan
Eleventh Course
Waldorf Pudding, Chocolate Eclairs, French Ice Cream
So what did Mary and Alan spend the evening doing? Well as we run a Bed and Breakfast which not only is one of Pennsylvania's top B&B's according to Tripadvisor.com, but we are also members of Select Registry, so we are recognized as really, really good at what we do.
And we proved it! We spent the whole evening from 7pm through 11:15pm washing and drying dishes, plates and glasses. As they say, "if you have a talent, flaunt it!".
The really good news is that between us and our friends the Eberts, Myers, Reitzels, Hegglins, and Squab Queen Laurie Hanel we raised $1,375 for the YWCA. Life doesn't get much better than that!