Mary in the Gettysburg Museum
One of the best parts of owning a Bed & Breakfast is being able to guide guest toward all the fascinating and fun things to do in Carlisle and the Cumberland Valley.  Sometimes we send them to Hershey and Gettysburg as well, but the downside is that being so busy, we rarely get a chance to go and enjoy all these outings ourselves.
Last week though, we had no guests actually arriving on Wednesday, so we took off to see the Gettysburg Museum and the fully restored Cyclorama, and then took time to do the driving tour of the battlefield with the CD Guide.  Of course we had a guest call to book a room for that night, but with the aid of our trusty iPad we were able to accept the reservation and have dinner in Gettysburg (at the Blue Parrot – an excellent Beer-battered Haddock sandwich, with roasted heirloom potatoes on the side!) and still get back to Carlisle in time to greet them.
But I digress (as usual, Mary would say).  If you have not seen the fully restored Cyclorama/diorama, then make it a definite on your next visit to South-Central PA.  It is stunning, and alone is worth the super 35-minute drive through the apple orchards of Adams County.  In the museum, you can see beautifully preserved artifacts of the battle, and then of course, there is the battleground itself.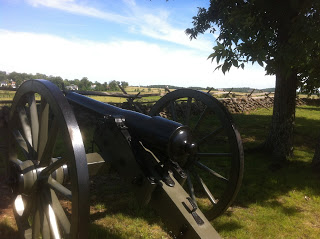 Cannons at the ready….
The CD tour gives you plenty of chances to stop and soak in the atmosphere of the battle which changed the course of the Civil War, War Between the States, or War of Northern Aggression – depending on your affiliations!  Regardless, to see the lines of cannon pointing at the pastoral countryside, and close your eyes and imagine the roar of the guns, the screams of people and horses, makes you really wonder why after all these years we still have to send our young people to war.
Mary's great-uncles fought in the Civil War, Leo losing his life at Antietam, and John surviving the travails of Andersonville and Florence.  We can't help but think of them, and of all the military who put their lives on the line for us and for our allies.  Thank you to all of you – you know who you are.