Happy National Ice Cream Day!
Today is National Ice Cream Day! We wanted to share all the ice cream places in the area and any discounts that might be offered, as well as some history and fun facts. There will be both chains and local shops on this list!
History of the Day
Why do we have National Ice Cream Day? Ice cream is consumed by 90% of the country so in 1984 President Reagan wanted to commemorate the treat and created National Ice Cream Day! It is celebrated on the third Sunday of July each year. He also declared July as National Ice Cream Month.
What Consitutes As Ice Cream?
"A a soft frozen food made with sweetened and flavored milk fat."
Some History
Ice Cream has been around for much longer than me or you. It does not have a credited inventor but it was said that the first food that would be most similar to ice cream was earliest consumed between 618-97 AD in China and made from flour, buffalo milk, and camphor.
During the Roman Empire, snow was gathered to be covered in fruit and juices, as requested by Ceasar.
In Italy many years later, Marco Polo returned from the Far East, bringing back what we would now call sherbet. It is assumed that the recipe we have for ice cream now developed from this sherbet recipe. In 1660, the ice cream was presented to the public.
The first printed advertisement for it in the United States was in the New York Gazette on May 12, 1777. After the American Revolution, ice cream became very popular in the United States.
The ice cream cone was invented in 1904.
Some Fun Facts
Ben and Jerry's has an Grave Yard (for discontinued flavors) at their factory in Vermont and online on their website. It was created in 1997 and consisted of only 4 flavors. It has now grown to 35 flavors! Recently since the flavor What a Cluster was retired, an actual funeral was held at the graveyard.
Alexander the Great was known to adore ice and snow flavored with nectar and honey.
The weight of the biggest ice cream sundae was 54,914 pounds.
12,096 pounds was the weight of the heaviest ice cream cake ever made.
It takes the average person 50 licks to finish an ice cream cone.
The man who flavor tests for Dreyer's, John Harrison, has his tongue insured for 1 million dollars!
90% of Americans have ice cream in their freezer all the time. Which side of that statistic are you on?
Chocolate syrup is the most popular topping for this delicious frozen treat.
Chocolate ice cream was created before vanilla, but vanilla is more popular now.
The tallest ice cream cone was over 9 feet tall in Italy.
Ben & Jerry's gets over 13,000 flavor suggestions every year (and they take the time to read each one). That's more than 30 a day.
Hot Dog flavored ice cream was created in Arizona.
One dairy cow can produce enough milk to create 9000 gallons of ice cream in a lifetime.
Analysts have noted that sales go up around times and war and recessions.
Most ice cream companies are family owned!!! (Go Family businesses)
July has the highest ice cream sales in the US.
The heaviest Ice Cream scoop was 3010 pounds!
The most scoops on a single ice cream cone was 121!
 There are 11,o28 ice cream shops in America!

The most expensive ice cream desert is called Frozen Haute Chocolate Ice Cream Sundae and costs $25,000.
Some Places Around
Below is a list of all the places nearby that serve ice cream. Most are a short drive away and a few are walking distance.
Exquisite Chocolate serves Gelato and Lemoncello from Italy, which are great options for cooling down on a hot day. Besides those cold treats, they also offer a variety of chocolates and candies that may only be described by the word exquisite.
Massey's is a staple in Carlisle. They post their menus daily on Facebook and are open year-round. Massey's does not have indoor seating, but does have benches and picnic tables outside. Known for their custard and the cutest sign, Massey's is always a great place to stop by.
Leo's is a lovely shop down High Street. They offer an assortment of creative flavors and even have a live flavor cam so you can always know what flavors they are offering. Massey's and Leo's have been in a competition for years. Everyone who works here has their preferences, so please feel free to ask us which we prefer.
Dairy Queen is a staple in any ice cream lover's life. They are offering $1 off for any soft serve dipped cone. Dairy Queen is also doing Miracle Treat Day on July 27th, where $1 for every blissard sold goes to local children's hospitals. Dairy Queen is a 20-minute walk or a five-minute drive, whichever you would prefer.
Wendy's while not usually considered an ice cream shop will be offering a free small Frosty with the purchase of a small fry from National Fry Day (July 13) to July 16!
Meadows is a great local charm. The first location was created in 1950 in Duncansville, PA, and is still operational today. A perk of the Meadows is that some locations have a drive-through, so if the heat is just too much you can always stay in the car! They have franchise locations in Pennsylvania, Maryland, West Virginia, Virginia, and New York.
Bruster's is always a great option and it is right next to Nathan's, so if you want a meal before a frozen dessert are your thing this is the place to go. They also have 17 flavors that are dairy free and vegan, which is a delightful way for all people to enjoy frozen treats regardless of any dietary restrictions. They have over 150 flavors that are in rotation at any given time.
Rita's is a chain in the area. It is within walking distance and a great place for a cold treat. They have special deals every weekday and are only open during their summer season.
Dough & Arrows not only serves ice cream but serves cold, edible cookie dough as well. A cute sit-in area is included, where consumers can play board games provided there and a claw machine!
Urban Churn is the newest addition to the Ice Cream scene in Carlisle. By Target, just 10 minutes down the road, Urban Churn is a great place to get wild flavors. They offer a variety of flavors, going as wild as they can (including flavors like Garam Masala and Mexican Street Corn), that are culturally inspired with natural ingredients.
The Destiny Dairy Bar uses milk that is thought to be best for those with lactose intolerance. Their cows are on sight and you can even watch the milking process when visiting the farm if it is during milking time. Their shop is on sight at the farm, so you can also take a little walk around the farm and see other animals. They have a variety of flavored milk and other homemade products.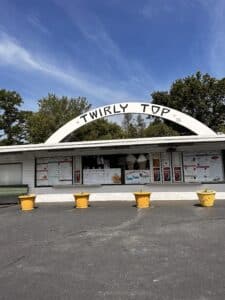 Twirly Top is a cute place right outside of Carlisle. With many picnic tables and an entire menu of food, it is a great place to stop for a treat, food, or just a good time. They are family owned and operated since 1952 when they opened. They regularly post updates for menu changes on their Facebook.
Thank You and Goodbye For Now
I hope you enjoyed this! If you did and you haven't read the last blog, you can read it here! There will be another blog out soon, so be on the lookout for the next one. I love writing there and am so excited to get to continue sharing these with you.
Warmest Wishes,
Chloe