Welcome to the New Carlisle House Bed and Breakfast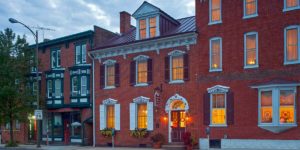 Welcome to Carlisle House Bed and Breakfast, rejuvenated and thriving in 2023. The blog has not been consistent in a while, partially because of new ownership, the Pandemic, and other unforeseen circumstances. Really, there are lots of valid reasons why the blog has been missing lately.
You might have noticed a blog went out a few weeks ago. This is because I wanted to have a test run before declaring that the blogs will be back up and running consistently. That probably leads you to the question…Who is this?
My Welcome
Hi! My name is Chloe Moore, and I am so excited to welcome you to the new and improved Carlisle House Bed and Breakfast. I have been working at Carlisle House since June of 2022, and it has been an incredible journey.
I am originally from San Francisco, California. I relocated to Carlisle, Pennsylvania, to pursue my passion for dance at Dickinson College as a Dance Major and Creative Writing Minor. Dance has always been a significant part of my life, and I discovered my love for creative writing in high school, taking various classes to nurture my skills. Now, I am excited to apply my creative writing background to the blogs I will be writing here at the Carlisle House Bed and Breakfast.
However, my responsibilities as one of the two assistant innkeepers extend beyond blogging. I contribute to breakfast preparations when needed, but you will often find me diligently working at the computer. Managing emails and serving as the primary point of contact from our team to you are among my key responsibilities. Additionally, I take charge of our social media presence, including platforms like Facebook, Instagram, and newsletters (please let me know if a Twitter presence would be wanted). We hope to make an appearance soon on TikTok!
During the day, I love taking breaks from the screen and grabbing a paintbrush to touch up any areas that need a little tender love and care (rest assured, I always allow ample drying time before guests arrive). I believe in maintaining Carlisle House Bed and Breakfast's impeccable appearance, and these moments of silence in a typically vibrant house are genuinely refreshing.
When I am not working here, my two favorite pastimes are reading and dancing. Dancing provides a much-needed balance to the computer-centric aspects of my job, and reading greatly enhances my writing skills (as they say, the more you read, the better you write!). I'm always on the lookout for book recommendations, so please feel free to share your favorites with me.
Paul's Welcome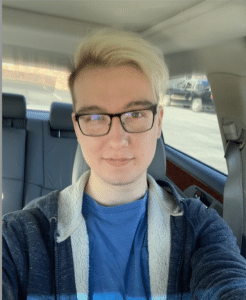 Paul Carlisle (really his last name!), Carolyn's son, has taken on the role of one of the assistant Innkeepers. He originally hails from Winston-Salem, North Carolina. Paul has been working here since July of 2022. He enjoys making breakfast special for each of our guests and welcoming them into the house. Paul is very lively during breakfast, talking to people about fun things around town and hearing their life stories.
Paul is all about the vibes. He strives to create a restful and inclusive vibe that is welcoming to anyone and everyone. While making breakfast, he enjoys playing music to create a lively environment in the kitchen. One thing that excites him about working here is being able to talk to different people of all cultures. Since he was young, Paul has always been interested in foods from different places. Working here allows him to interact with people of all countries, get to know more about their food, and sometimes even try it out for breakfast!
All the quiches in the house have an international flavor, and this is very invigorating to Paul. Recently he created a French Onion Quiche and is looking for opportunities to make more. We are always looking for quiche ingredient recommendations, so if you have any, let him know, and hopefully, it will be in the quiche next time you stay.
Carolyn's Welcome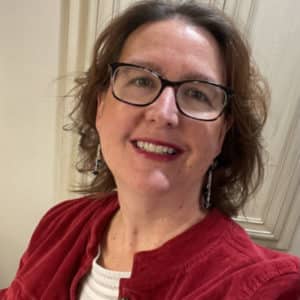 Carolyn Carlisle is now the sole owner of Carlisle House Bed and Breakfast. She is very excited to take her place to the next level. Starting with a whole house remodel and followed by a very exciting list of events for 2024 (that will be shared soon!), she is working hard to make the house everything and more for each of her guests. She has taken the time to do research on new recipes for breakfast, so be on the lookout for those. Carolyn would appreciate any feedback on the house that could make your stay more wonderful.
Carolyn is proud to call this a woman and disability-run business. She takes pride in knowing that 83% of her employees are women. The exception to that is her son Paul, and she takes pride in knowing that he can bring a different perspective to a place full of primarily women's perspectives.
Carolyn has a degenerative eye condition called Retinitis Pigmentosa. It is a rare genetic disorder of the eyes that affects the retina and causes loss of vision. As of right now, she is legally blind but still has some eyesight in her left eye (but there is potential that it will get worse in her left eye), so she would appreciate a few extra seconds when helping guests.
Carolyn is originally from Winston-Salem, North Carolina. She bought Carlisle House Bed and Breakfast in 2015, and her goal has been to make it a safe and cozy place for weary travelers to rest their heads. She was a teenager when she realized her dream of owning a bed and breakfast. She always wanted to live in a big house with a lot of people, and this was a way to do that. She did not know what a bed and breakfast was at the time but had always been service-oriented, and the big house full of people had great appeal to her. She loves hearing the stories of people and cannot wait to hear yours.
One of Carolyn's favorite things this year has been the flowers she has planted around the house and her herb garden in the backyard. Flowers have been planted in the hanging baskets by the side door, in the front window boxes and planters, and in the back parking lot planters and natural area. All of these flowers are blooming beautifully, so please take some time to stop and take a look at them when you stop by.
Her herb garden has felt like a luxury in the kitchen. The ability to use fresh herbs to make quiches is a delight. It makes the whole experience of making a quiche better because one gets to pause and go outside to get fresh herbs. The fresh plants are also used to make our mint simple syrup, which is often put on watermelon when it is served for breakfast.
Housekeeper's Welcome
We now have two housekeepers! Michelle and Linda work hard to keep the place as perfect as can be. Their tireless work is one of the things that makes this house run as effortlessly as it does. Michelle has been working here for the last 6 years, the longest time of anyone here besides Carolyn. Linda has been working here for the last year.
Maintenance's Welcome
We are so thrilled to announce that (for the first time ever!) Carlisle House Bed and Breakfast has a female maintenance person. Rose is our hardworking fix-it (and I mean fix everything) person.  If you have any problems that need to be fixed with more than a screwdriver (because I can usually handle those things), we will be sure to tell Rose, and she will fix them as soon as possible.
Mission Statement
We are working to become a more coherent business. To this effect, we have written a mission statement. At Carlisle House Bed and Breakfast, or mission statement reads as follows:
"At Carlisle House Bed and Breakfast, our Mission is to provide all guests with clean, affordable lodging and amenities that make their stay as relaxing as possible. We intend to make our house feel like a home to each guest and employee by providing a peaceful environment that wraps around each individual's wants and needs. Our staff community works together to make this a place that integrates well into our Carlisle community. By adhering to our high-quality standards and working efficiently, we can keep the path trending upwards to protect our owner's interest."
What does this look like to us? We expect all staff to be detail oriented so that every area of the house is as clean as can be. The price point for our rooms allows everyone staying here to have a fun and relaxing trip, and not a financially stressful one. We include amenities like free, private, off-street parking, body scrub, shampoo and conditioner, makeup wipes, face wash, and small circular eye makeup remover pads. Our goal with the amenities we provide is to make each guest feel that all they need to bring is their toothbrush, and we'll take care of the rest.
In each room, we offer comfy chairs that allow travelers to curl up with a book or just put their feet up. Each room is equipped with a TV that has a Roku streaming device in which you can log onto any of your streaming services, and continue any series you are enjoying or maybe even start a new one. We invite employees to try breakfast to understand what each guest is enjoying. We use eggshells in the gardens around the perimeter of the house to facilitate growth and keep the house as green as possible.
We are always happy to accommodate the needs of any guests. When making your reservation, we ask that you leave a note of any dietary restrictions so that we can make the best breakfast possible for you to enjoy. It is critical to us that each and every guest is able to delight in our lively dining room each morning over breakfast.
We often bring warm quiches to businesses in the area to facilitate a connection between our business and the community. We encourage guests to try local restaurants and explore local shops. We make every effort to ensure that any guest of Carlisle House Bed and Breakfast is a local for however long they are staying with us.
Since the Pandemic in 2020, business struggled for a while (like most small businesses). Since then, the business has gotten better and better with every passing year. The better business allows us to take even better care of each guest.
What Looks Different at the Carlisle House?
Welcome to the revamped Carlisle House Bed and Breakfast. You may ask what looks different now at the Carlisle House. The answer is many things! We have a new logo, which is on its way. Not sure when exactly, but it will appear soon, and I will be sure to update you.
We have more quiches now! 26 is now our number of quiches (which will be talked about in a future blog), ranging from many different origin countries, and is exciting as ever. We are also experimenting with other new breakfast items. Donuts were served at breakfast on June 2nd (for National Donut Day!) and are expected to make an appearance again.
Matcha cookies were also served and are expected to make an appearance again with an updated recipe. Carolyn has also been experimenting with an egg roulade that has only had the reaction of "wow" from guests.
Cinnamon bread is now a staple part of breakfast at Carlisle House Bed & Breakfast. Paired with fruit and quiche, it is a wonderful way to start the day.
New placemats adorn the dining room. From light-colored flowers in the summer and spring to coffee-inspired placemats in the winter and fall, the whole dining room follows the seasons in its vibes and allows for breakfast to be a well rounded experience.
Our website has gotten a complete makeover. With new pictures on their way and new descriptions of every room, the website is now an elegant place to check out the Carlisle House Bed and Breakfast (and maybe even book a room!).
Every room in the house has had a major remodel. From the dining room being painted a new color to Rose Room having a king-size bed, all the rooms are looking a little different. This will be the topic of the next blog!
What does our Day Look Like at A Bed And Breakfast
I thought you might wonder what a day looks like at Carlisle House Bed and Breakfast, so I thought I might share it with you.
6 Turn on the ovens. The quiche needs an hour and a half to cook in the oven, so ovens must be turned on at 6 am.
6:15 Quiche goes in the oven.
6:15-7:45 Getting ready for breakfast. This includes making coffee, cutting bread made the night before, cutting fruit, and prepping plates. Usually done with music on!
8-9:30 Serving breakfast. An exhilarating part of the day. Talking to guests and hearing about their lives is a big reason this line of work is so fun.
8-11 Check out! We are so sad to see you go. We do this at the same time as serving breakfast.
10 Housekeepers arrive. They are here to clean the rooms, do laundry, check on the common room, and clean the dining room!
11-4 After check out is when we do our chores. We clean the kitchen, go grocery shopping for anything we may need for the following day, or do any other chores that might be needed (getting strawberries to make chocolate-covered strawberries is a favorite). Social media work is also done, as well as answering emails and anything else we can think of that we have time to do.
4-7 Check-in time! We are so excited to welcome you into the house and show you around. During this time, breakfast is also prepped for the next morning. We bake all the bread the night before and mix dry ingredients for the quiche in a pan to put in the fridge. Separately, we combine the wet ingredients in a jar and put those in the fridge. This allows us to pour the wet ingredients into the dry ingredient before we put them in the oven in the morning and have less work in the morning.
7-11 We try our very best to be done by this time, but that is not always what happens. We are still answering phone calls and emails, and anything else we notice needs to be done.
Confusing, I know. That is why our whole staff works together to get these things done.
Thank you, and Goodbye for Now.
Thank you for reading! We can't wait to welcome you to our next blog, so comment if you like this one and write anything that you would like to see future blogs talk about.
Warmest Wishes,
Chloe