Welcoming in a New Season
Happy fall, from the Carlisle House to you!
What makes Carlisle so wonderful in the fall? A rush of college students coming back, Fall Carlisle and there are so many things to do in Carlisle this fall! 
Because things are never as simple as we aspire for them to be, the start of fall is a difficult thing to pin down to exactly one day. There are two options to decide between when thinking about the start of fall: you must decide if you are going with the meteorological date or the astronomical date. The first fell on September 1st, and the latter falling on September 23 based on the arrival of the autumnal equinox. 
What is the Autumnal Equinox? 
A solar equinox occurs when the sun appears directly over the Earth's equator, and the sun appears to rise "due east" and set "due west," and occurs twice a year: once in March and once in September. The autumnal equinox signifies the start of fall in the Northern Hemisphere. Another significant feature of the Autumnal Equinox is after it, days get shorter until the winter solstice. 
Another exciting fall thing that just started was Starbucks Coffee bringing back their Pumpkin Spice Latte for the 20th year. Head to your local Starbucks to pick up a latte or one of their new fall drinks including an Iced Apple Crisp Oatmilk Shaken Espresso or Iced Pumpkin Cream Chai Tea Latte. 
The last Dickinson College students moved back onto campus on August 27th. Penn State Dickinson Law has also returned to classes. The return of the college students means bustling streets and new energy in and around Carlisle. 
Fall Activities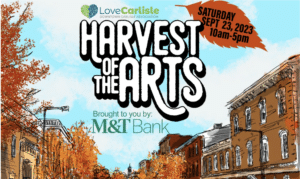 The Harvest of the Arts Festival from 10 a.m. to 5 p.m. on September 23rd is a staple of fall in Carlisle for its 41st year. Located only two blocks away from this historic home, the Harvest of the Arts Festival is the biggest single-day festival in Carlisle. Thousands of participants wander through the closed-off streets for vendors of food, shops, and breweries.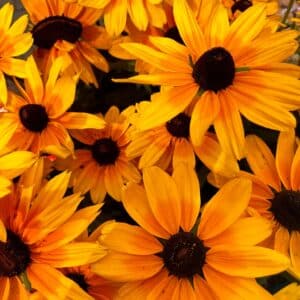 The Sunflower Festival will occur on September 23rd and 24th. There you can pick as many sunflowers as you would like for free and sunflower picking will also be available every day from dawn to dusk after September 1st. This festival includes food vendors, make-your-own scarecrow, an oops sale (selling items with small imperfections or are retired), trolley rides, and many more. 
On September 30th, the New Cumberland Apple Festival will be held at New Cumberland Borough Park. This one-day feature will include face painting, music, artists, pony rides, and many more opportunities for fun of all ages with over 200 craft vendors and 70 food vendors. 
Pennsboro Pumpkin Fest will be held on October 8th and 9th at Adams-Ricci Park in Enola. This fest includes kid-friendly activities like pumpkin painting and face painting, live music and entertainment, food, and even a car show on Saturday! Admissions and parking are free. 
On October 22nd and 23rd, the Fall Furnace Fest at Pine Grove Furnace State Park will be happening. This festival includes food, live music, historical demonstrations of charcoal making and blacksmithing, pumpkin carving, and more! On Saturday evening, there will be a pumpkin float on Fuller Lake.
Some Fun (or not-so-fun) Fall songs
Fall is a great time for cuddling up with a book and a cup of tea under a blanket as the weather gets colder. For those chilling walks between places, I added my favorite fall songs!
September by Earth, Wind and Fire
Sweater Weather by the Neighborhood
We Fell in Love in October by Girl In Red
Harvest Moon by Neil Young
Harvest Time by Luke Bryant
All Too Well by Taylor Swift
Autumn Leaves by Ed Sheeran
Autumn in New York by Ella Fitzgerald and Louis Armstrong
Goodbye For Now
From all of us here at the Carlisle House, we hope you have a great season, and our season could only be made better if you came to stay here. We have lots of exciting things coming up so make sure to check out our Instagram and Facebook for daily posts.
Sincerely,
Chloe