Dickinson College will host the 19th annual
Bluegrass on the Grass Festival on Saturday, July 12, 2014 from 12 p.m.
to 9 p.m. on the John Dickinson campus off West High Street between West and North College
streets. The event is free and open to the public. This one-day festival has become a regional event that draws over 3,000
enthusiasts. Bring a blanket or lawn chairs.
A
wide variety of regional food vendors keep appetites happy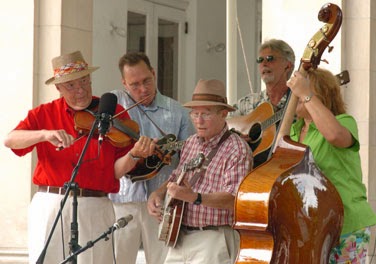 throughout
the festival. Bluegrass record companies and Martin Guitars provide
gifts to attendees who support the festival.
The festival features high-quality performers and a mix of bands
that offer bluegrass aficionados a variety of styles and sub-genres.
Many bands return to play year after year, including the Dismembered
Tennesseans, who have performed every year since the first and become
the festival's "house band."