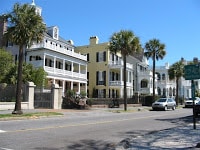 On to the big conference….we headed to Charleston with visions of lovely weather and balmy skies….NOT! Rain and temps in the 20s and 30s but that didn't dampen our conference experience or appetites.
The Professional Association of Innkeepers International presented 4 days of intensive seminars with most interesting and useful ideas and techniques from dining rooms, food prep, reservation systems and financial strategies to the buzz word of the conference: SOCIAL MEDIA! Many of the best suggestions and tips were shared by the hundreds of other Inn members from across the continent and even from Hawaii.PAII CEO, Jay Karen, launched the new BETTER WAY TO STAY campaign promoting B&Bs and Inns as a refreshing, exciting and memorable option to other typical lodging! Come stay at a B&B or Inn!
The daily hard work was rewarded by delicious evening dinners with Southern treats such as Seared Pork Belly, Cornmeal Fried Okra, Shrimp and Grits, Hoppin' John and Collard Greens!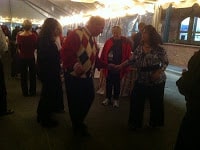 The last evening, all participants and vendors celebrated at a huge reception in the courtyard of the Charleston Visitors Bureau in the Historic District. We all dined on Low Country cuisine and shagged the night away…no, not with Austin Powers. Great shag dance demos, live music and great fun.