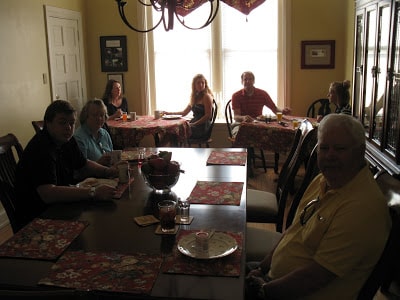 Early this morning, the south end of town had a 2 hour power outage and for the first time in 6 years, we served breakfast in the dark…well almost! We had a wonderful group of prospective Dickinson College families and they were great sports about the whole situation.
Alan had the grill started to finish off the quiches, the muffins baked in the residual oven heat…about twice as long as normal and we made coffee the old fashioned way…boiling water on the gas stove (match lit) poured through the coffee. All our guests had a delicious Carlisle House breakfast…as usual…almost!
We can handle it all…yet another reason why we are the TRIPADVISOR #1 B&B in PA. Come stay at the Carlisle House Bed & Breakfast and experience our hospitality.