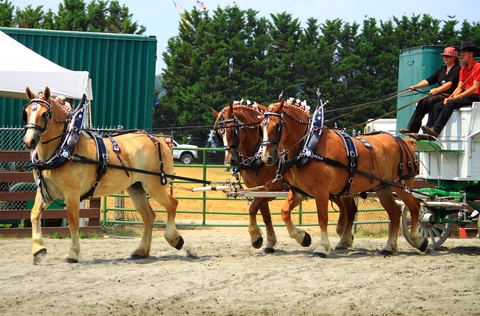 In just a few weeks, the State of Pennsylvania will host its 102nd Pennsylvania Farm Show. You may be wondering, what makes this Show so special? It is the largest, indoor, agricultural exposition under one roof in the nation! You will enjoy a week's worth of diverse displays of Pennsylvania's agricultural industry – nearly 6,000 animals, 10,000 competitive exhibits, and 300 commercial exhibits – as well as the people who make this industry thrive.
Events will include: live demonstrations, from wheat weaving, wood carving, and chair caning to maple production, honey extraction and bunny hopping; a plethora of award ceremonies for the best cakes, pies, cheese, burgers, cider, and wine, to name just a few; judging competitions for poultry, swine, steer, and goats; a Thermador chefs challenge, pony-pulling contest, square dance parade, agri-magic show, and so much more.
For those of you who have attended this Show before, there are many new events in store! For instance, Organic Explosion, which will feature a competition of the finest, new organic produce. Did you know Pennsylvania is the number two certified organic producer in the nation? Other newbies include: So You Wanna' be a Farmer? for those who want to fulfill their farming dreams; Winning Wreaths, featuring a competing line-up of outstanding Christmas wreaths to join the Pennsylvania Christmas tree competition; Agricultural Artistry, offering a unique display of crop art masterpieces like you've never seen – think Princess Leia in peppercorns! This week-long extravaganza concludes with the PRCA Circuit Finals Rodeo.
The much-anticipated PA Farm Show is just one of many reasons to plan your stay at Carlisle House. Contact us today so we can help you plan your unforgettable visit!
102nd Pennsylvania Farm Show
Jan. 6 – 13, 2018
2300 N. Cameron St., Harrisburg, PA 17110
Opens every morning at 8am
Admission is free/paid parking
Call (717) 787-5373 or click here for more information.