Summertime and the living is easy—and more fun too in Carlisle, Pennsylvania! Forget indoor chores or steamy kitchens, we're heading outside for leisurely days of music in the park and dining under the stars. Sound inviting? Then pack your bags for a visit, and check out these upcoming concerts and cool places to eat.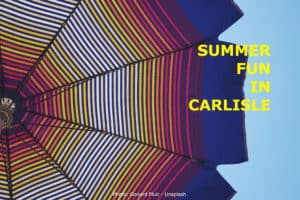 2018 Summer Artists Series. Stop by the amphitheater in Carlisle's Thornton Park on Sunday evenings now through August 5, 2018 for a range of performances, all free of charge.
Sundays
6:30 p.m. – 7:30 p.m.
350 Walnut Bottom Road, Carlisle, PA
717-243-3318
2018 Performances:
June 24: New Direction Band (Classic rock and country blues)
July 8: Mountain Ridge (Bluegrass)
July 15: REACH (Hip-Hop dance)
July 22: Hot House (Jazz)
July 29: Christine and the Road King (Folk, country, Americana, bluegrass, cowjazz, and comedy)
August 5: Carlisle Town Band John Phillip Sousa Concert
Music on the Mountain. Not only can you hear some pretty great music at three upcoming summer concerts in Kings Gap State Park, but you'll enjoy spectacular views as well. Bring a lawn chair or blanket for the free afternoon into evening events. If you don't want to pack a picnic, there will be food vendors to keep you happy.
Sundays
3:00 p.m. – 7:30 p.m.
500 Kings Gap Road, Carlisle, PA
717-776-3814
2018 Performances:
July 1: Erica Lyn Everest and Second time Thru (Blues, jazz, and classic rock)
August 5: Baileys Crossing and Mountain Ride (Bluegrass)
September 2: Seasons and The Celtic martins (celtic)
Dining outside is one of summer's great pleasures (breakfast on the patio at Carlisle House is a favorite). Luckily for our guests, there are wonderful outdoor dining options within walking distance of the B&B. The menu choices are diverse, the settings are delightful—and the commute couldn't be easier!
1794 The Whiskey Rebellion. Locally-sourced ingredients and wood-fired steaks are a specialty here. What to try: a drink from the bar. It has more than 50 whiskeys and makes its own infusions for cocktails.
10 South Hanover Street, Carlisle, PA
800-704-1188
Monday – Saturday, 4:00 p.m. – 10:00 p.m.; Bar is open 4:00 p.m. – Midnight
Trattoria Piatto. Settle in on the patio at this historic Victorian home and savor delicious Italian fare made with market fresh ingredients. A full bar offers dozens of Italian liquors, wines, and signature craft cocktails.
22 West Pomfret Street, Carlisle, PA
717-249-9580
Open daily, 4:00 p.m. – 10:00 p.m.
Market Cross Pub. Find tasty English pub favorites—such as Fish & Chips and Shepherd's Pie—in the restaurant's casual Beer Garden. The lineup of draft beers includes four pours from the onsite microbrewery.
113 North Hanover Street, Carlisle, PA
717-258-1234
Open daily, 11:00 a.m. – 10:00 p.m. (12:00 a.m. on weekends)
Plan to stay with us at Carlisle House this summer and you can explore all the activities and entertainment in our area. Call now to book your visit!