Here at the Professional Association of Innkeepers International Annual (PAII) Conference in Charleston, SC. Well we had to arrive a day early to get a head start on the eating side, so we set off on Saturday, and stayed in Jonesville, NC so that we could have dinner at Twentyone and Main in Elkins, NC. And what a great dinner it was! With Fried Pimiento Cheese Poofs, Fried Green Tomatoes, Smoked Shoulder of Lamb, an amazing Burger (think off cuts of ribeye and filet!), and good things to drink, it was a wonderful way to start this year's adventure!
Arriving in Charleston yesterday in time for brunch, we headed straight for the Hominy Grill where we feasted on Fried Green Tomatoes (again!), Shrimp and Grits, and Salmon Potato Cakes. Accompanied by Champagne Cocktail and a Tequila Sundrop this was the perfect way to recover from the 670 mile drive!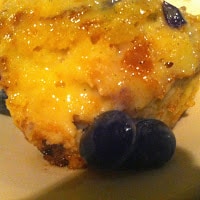 By last evening we wanted just a scrap of food to keep away the hunger pangs, so we went to Amen Street Seafood and Raw Bar where we showed great self control, dining on only appetizers and dessert. Mary's fried oysters were outstanding, and Alan's Calamari was quite simply the best he'd ever had.
We then shared key lime pie and a glorious bread and butter pudding.What? You are asking, nothing to drink? Well we were intrigued with a technology called VinTap where wine is shipped to restaurants in a single-use one-way recyclable keg, complete with its own nitrogen system for maintaining the quality of the wine. It worked admirably, keeping the Sauvignon Blanc and the Five Easy Pieces Bordeaux blend in perfect condition.
But now, it's back to work, enjoying the company of innkeepers from across the nation while we continue to learn how to make B&Bs and Inns a "Better Way to Stay". Oh, and we may have one or two more fine meals before we leave Charleston and the Low-country cuisine!