Honey BEE Lemon Pound Cake
is featured today for breakfast!!
This is Joanna Ye Weekend in Carlisle, PA.
Joanna, 14, tied for third place with 11-year-old Arvind Mahankali of New York City in the Scripps 2011 National Spelling Bee, held in National Harbor, Md. This year's bee marks Ye's second appearance on the national spelling stage. She tied for fifth place in the 2010 competition. She is an 8th grader at Lamberton Middle School here in Carlisle.
High Street in Carlisle, has been renamed Joanna Ye Avenue for the 2 days and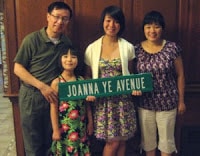 restaurants are featuring Joanna Ye sandwiches and specials. The Sentinel photo shows that her whole family is thrilled!

Congratulations Joanna!!