"He killed my Uncle John."
In 2010 local historian and Sentinel reporter Joe Cress wrote a book Murder and Mayhem in Cumberland County relating tales of the dark side of this county's history. On the cover, a man in handcuffs is being led away by the sheriff after he had murdered a Carlisle lawyer, and shot three others in August of 1955 in the courtroom of the Old Cumberland County Courthouse on the next block of our street.
Before his departure this morning, one of our young guests glanced into our gift case and suddenly pointed at the book saying "That was my great-grandfather." Already sensing his response, Mary asked who, and Aaron said "Percy Haines!", to which Mary said quietly "He killed my Uncle John".
Needless to say the departure was delayed and it was a matter of moments before Aaron and Mary were poring over old clippings from the Sentinel and other newspapers, as Mary told Aaron of the happenings that sad day in 1955. And Aaron responded with his family's views about Percy Haines.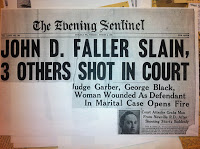 Breakfast here at the Carlisle House is always interesting, and never more so than when the guest coincidences are as close to home as this one!