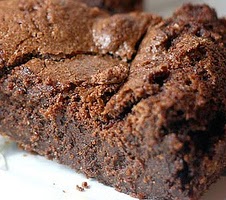 SIN CAKE
Flourless Chocolate Cake
Preheat oven to 375
15 oz chocolate chips
1 stick + 2 ½ T butter
6 egg yolks
1 c sugar
8 egg whites
5 ½ T sugar
1 T rum extract
¾ t vanilla extract
Melt choc chips and butter. Cool slightly.
Whip yolks and 1 c sugar until light yellow.
Whip whites and 5 ½ T sugar until it forms peaks.
Add melted choc to yolk mixture. Add rum and vanilla extracts.
Fold whites into choc-yolk mixture by hand.
Grease and flour 9" springform pan. Put parchment or wax paper circle in bottom of pan and grease. Carefully pour in batter.
Bake at 375 for 20 minutes then
350 for 25 minutes then
250 for 40 minutes.
Turn oven off and open door slightly and let sit in oven for 30 min.
Let cool, remove pan and dust with powdered sugar. Hide it until dessert time!!
*Use half recipe for 7" springform pan.
This recipe was from my favorite restaurant at the Hyatt in Kansas City
at the Crown Plaza…sadly closed 2 years ago. The Peppercorn Duck Club
featured rotisserie duck grilled on display behind a glass window with 4
signature sauces, one of which was green peppercorn. Not only was the
food top-notch but their classic service was impeccable! Their dessert
(included) was a buffet of delicious chocolate offerings. As
we were regulars, we persuaded the chef to give us his Flourless
Chocolate Cake recipe. It made ten cakes so the ingredient amounts here
are a little odd as I had to cut it down to one cake.