Breakfast, dinner or just because they in the refrigerator! Rosemary Roasted "Accordion" Potatoes are delicious.
An Ina Garten favorite that we tweaked a bit! We have shared this recipe with so many guests already and it is always a hit!
Ingredients
3 pounds baby Yukon Gold potatoes
1/3 cup olive oil
4 teaspoons kosher salt
2 teaspoons freshly ground black pepper
2 tablespoons finely chopped fresh rosemary (divided)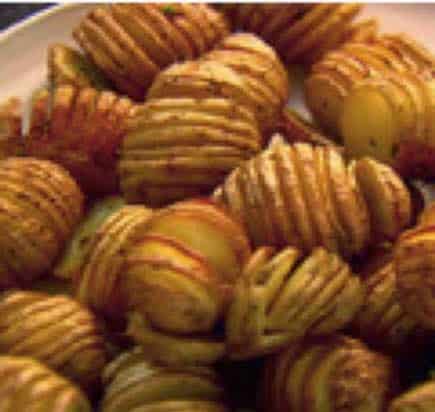 Directions
Preheat oven to 425 degrees F.
Slice the bottom off each potato (or cut a bigger potato in two) and
cut crosswise at 1/8-inch intervals, cutting to within 1/4 inch of the
bottom. The best way of doing this is to stand the potato with the
sliced off surface on a piece of kitchen roll between two ¼" thick
cutting boards and then the boards will prevent the blade from cutting
right through the potato.
Use a slicing knife or other thin-bladed
knife for the downward cuts. If the blade is too thick (eg. a Chef's
Knife) it can split the potato, which you do not want to happen.
Place the potatoes in a large bowl, add the olive oil, salt and pepper
and 1 tablespoon of the rosemary and toss well, working the salt mixture
in between the slices. Arrange the potatoes on a sheet pan with the 1/8
cuts upwards.
Bake the baby potatoes for 30 minutes or the bigger potatoes for 45 minutes, until they are tender and golden and crisp on top
Sprinkle with remaining rosemary and serve.