Move over Flat Stanley,
the Red Chair is the newest travel icon!
From its humble beginnings on the ice at the Woods Hole Inn on Cape Cod, the Red Chair has taken on the life of a celebrity and traveled hundreds of miles making many new friends all chronicled on RedChairTravels.com. He is now on the way to the west coast and will stop at many inns and bed & breakfasts on the route.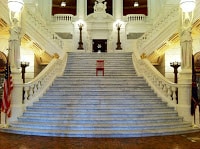 RED visited the Carlisle House and was seen and photographed around the area with many dignitaries, locals and in most interesting places. His debut was at the PA State Capitol where he met Senator Brubaker and strutted the Rotunda steps.
Alan took Red to visit early Carlisle resident and Revolutionary War
heroine Molly Pitcher. Molly's memorial is just 300 yards from the
Carlisle House in the old Carlisle Cemetery.