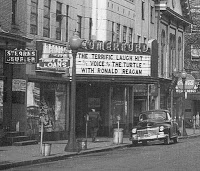 Photo-Cumberland County Historical Society
The
Carlisle Theatre, originally called The Comerford, opened its doors
in May of 1939. It was by far the grandest of three movie "palaces"
all within a block of one another and was the first centrally air
conditioned building in Carlisle.
The Theatre was built in the Art Deco style known as "streamlined
moderne." From the razzle-dazzle modernistic marquee with its bold
Deco lettering, to the richly designed interior, Art Deco styling
abounds.
During its early years, the Theatre
offered daily continuous shows from 2:30 until 11:30 P.M. The
matinee price for adults was 25 cents and the evening price 40
cents. The Theatre flourished through the 1960's, acting as the
"hub" of a vibrant downtown. Although it closed in the 1960's, it was revived in the 1990's as the Carlisle Performing Arts Centre and is used as a focal point for films, performing arts,
concerts, and community events.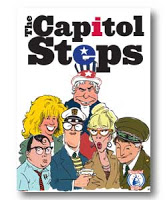 Like many other small town historic theatres, our Carlisle Theatre needs a digital refresher and the financial assistance of all by helping with the Save the Carlisle Theatre Capital Campaign.
Come experience the old theatre at two of the great fund-raising events:
Comedy Explosion, Saturday, April 13
The Capitol Steps, Saturday, June 1