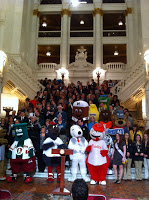 TOGETHER FOR TOURISM
MARY GOES TO HARRISBURG!
The First annual Pennsylvania Tourism Summit and Tourism Day, focused on engaging the industry, community and state government on the importance and value of one of our state's most vital industries!
Guest speakers focused on the future of tourism, key issues impacting our industry and how to strengthen communication, collaboration and awareness. Tourism rally at the State Capitol, Freshman Legislator's Breakfast, Educational tracks targeting Executives, Sales & Marketing professionals and PR/Communications staff.