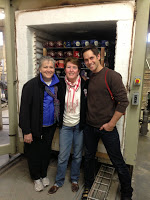 While visiting my sister, Helen, in the Minneapolis area last week, we scheduled a very special visit to the Deneen Pottery company. Deneen is the amazing family business that was founded by Peter and Mary Deneen and is celebrating its 40th year – 1972-2012! They produce the beautiful signature mugs and gift items that so many Inns, B&Bs, restaurants and organizations use and sell around the world!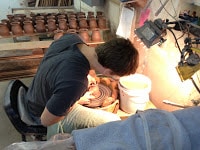 The potter's wheel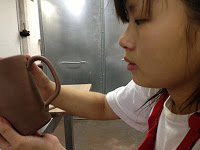 While we knew that the pieces were handmade, we had no idea of the time and number of individuals involved in the creation of one single piece.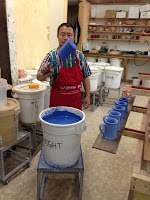 First glaze
From the clay preparation (clay mixed locally), the logo artwork design, artwork mold formation, piece(mug) molding on the potters wheel, handle application, pressing, cutting and application of logo medallion (many like ours with the Select Registry Quill), firing, glazing, marbling, etc….all the way to the packing and shipping. Niles Deneen says that 24 pairs of hands touch each piece in some step and we now can truly verify that!