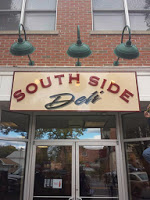 South Side Deli's new home on West High Street
Every month we send out a newsletter to keep you in touch with all that's happening here in Carlisle, and at the Carlisle House.
Sometimes though, your email client may decide that it is spam – which of course it isn't, but nevertheless you may miss interesting and informative events!
But never fear! You can also find our newsletters on-line in our website at this link.
This month we featured the move of South Side Deli from South Street to West High Street. Fortunately, it's on the South Side of High Street so there is no confusion there!
What sort of information would you like to see in our newsletter or here in our blog? Drop us an email at blogger@thecarlislehouse.com or leave a comment here for us!
Remember "Carlisle Starts Here" at the Carlisle House!