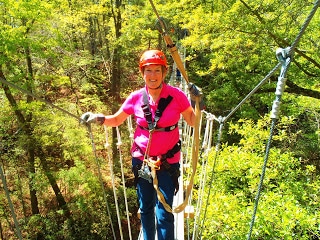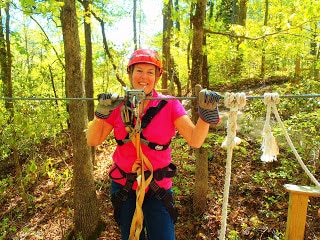 Well, one of us (Alan) had to stay and keep the Carlisle House running, but Mary took a really well-deserved vacation with her son and two grand-daughters. While Alan was doing the cooking and the laundry, Mary was zipping round the North Carolina countryside. Literally. On a zip-line – actually on lots of zip-lines! They walked across rope bridges, and generally had an amazing time.
We'll add the video later, and quite a few more photographs. In the meantime, we have renamed our boy Tarzan, Mary is now called Jane, and our two grand-daughters are now Cheetah-1 and Cheetah-2!
As you can see by her expression, Jane – OK, Mary – didn't enjoy it at all…. not!
Fortunately, Alan didn't know about this until afterwards so he could concentrate on making the English Quiche (Smoked Ham, Sharp Cheddar, Leeks, and a little touch of English Colman's Mustard), and on breaking his own record for the number of blueberries in a muffin!