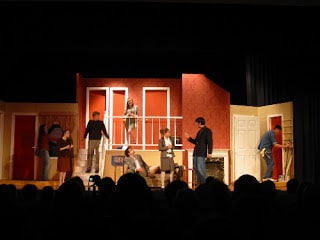 Feb 26 8pm – Noises Off is a 1982 play by English playwright Michael Frayn which is a door-slamming farce about the goings-on behind-the-scenes and onstage of a British sex farce called Nothing On, from dress rehearsal to closing night. This revival, directed by Jeremy Sams, began life at the Royal National's Lyttelton Theatre and then moved to the West End's Piccadilly Theatre and finally the Comedy Theatre. The show, which recouped its initial investment five months into its Broadway run, was nominated for a 2002 Best Revival of a Play Tony Award and earned original star Katie Finneran a Best Featured Actress in a Play Tony.
ALSO Showing:
Saturday, February 27, 8 p.m.
Monday, March 1, 8 p.m.
Tuesday, March 2, 8 p.m.
Mathers Theatre, Holland Union Building (HUB).
$5; $3 for student advance purchase
Enjoy the show and spend a delightful evening at the Carlisle House Bed & Breakfast just 4 blocks from Dickinson. Wake up to the smell of coffee and a delicious Carlisle House breakfast.