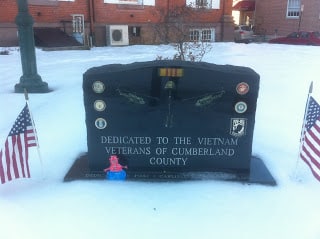 Don't get excited! You have to wait for January and our annual "Two Nights for the Price of One" Cabin Fever Promotion!
No, this post is to give you quick updates on Flat Frosty from the last post, and the Lonely Loo from the previous one.
Before leaving PA to fly back to Virginia (or however the US Postal Service transported him, Flat Frosty paid a visit to the Cumberland County Vietnam Veterans memorial, and was photographed to commemorate his visit. Along with Flat Frosty we send our greetings and thanks to ALL Military Veterans who have sacrificed so much for the USA and its allies. (Particularly the British, says Alan!)
Following on from the Lonely Loo Post which was inordinately well received by bathroom aficionados everywhere, we wanted to say a fond farewell to the wallpaper which for many years was admired at length by all occupants who forgot to take a book or newspaper with them.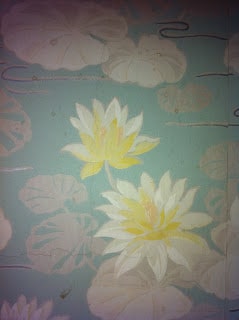 We don't know quite how long the wallpaper graced the walls of the bathroom, only that sometime before we became the owners, someone had covered it up with fabric which we removed during our upgrade process.
Maybe there is someone around who still has memories of this wallpaper, and maybe not. In 185 years, this historic home has seen its share of people coming and going, let's just hope that this wallpaper brought a smile to many faces along the way.